Needle punched non woven fabric
is applied in many ways, including as a filter layer or drainage material for water applications. It is also used for erosion control, retaining walls, and shoreline protection.
Needle punching is a common process for manufacturing nonwoven geotextiles and is performed by interlacing short fibers with barbed needles. It is a highly automated process that can create different fabrics of various thicknesses and strengths by manipulating the length, diameter, density, and type of fibers in the web of loose fibers that are formed in the initial step of the process.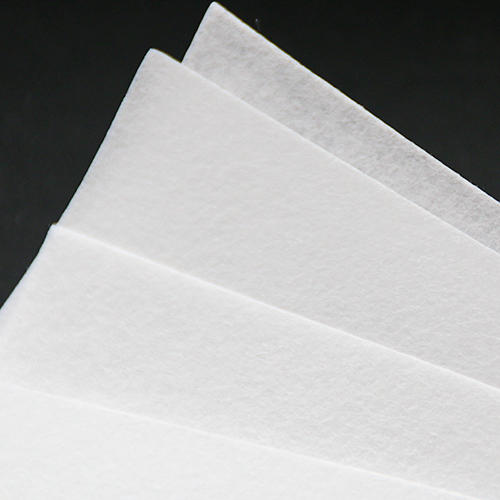 Typical nonwoven fabrics are made from bales of "Staple" short fibers, which may contain one or more types of same or substantially similar melting point short fibers that have been carded or combed into a loose, continuous, web structure called a "Web". The Web is then subjected to many, repeated penetrations of needles, which push the upper layers through the lower layers to form a fabric blank with desired thickness, density, weight and surface texture.
Several studies have been conducted to analyze the structural properties of nonwoven fabric. However, the analysis of the tensile strength of these fabric samples is qualitative; it has not been possible to study their tensile strength quantitatively by considering other structure parameters that are relevant for design and application. The present study is the first attempt to investigate the tensile response of needle-punched nonwoven fabric in terms of their overall structure.
Needle punched non-woven fabrics have several advantages, including:High strength: Needle punched non-woven fabrics are known for their high strength and durability. The fabrics are made by mechanically interlocking fibers, which creates a strong bond between the fibers.Breathability: These fabrics are breathable, allowing air and moisture to pass through. This makes them ideal for use in applications where ventilation is important.
Absorbency: Needle punched non-woven fabrics have high absorbency properties. They can absorb and retain water and other liquids, making them useful in a variety of applications such as cleaning materials, medical dressings, and diapers.Cost-effective: These fabrics are cost-effective as they can be produced using a variety of materials, including recycled materials. This makes them a popular choice for a wide range of applications.
Easy to process: Needle punched non-woven fabrics are easy to process and can be molded into a variety of shapes and sizes. This makes them useful in a wide range of applications, including automotive, construction, and filtration.Chemical resistance: Some needle punched non-woven fabrics have excellent chemical resistance properties. This makes them ideal for use in applications where they may come into contact with chemicals or other harsh substances.