Nonwoven fabric
is a textile that is not formed into a fabric by mechanical, chemical or thermal methods of fibers that are combined with each other. According to different preparation methods and uses, non-woven fabrics can be divided into various types. The following are several common types of non-woven fabrics:
     Hot-rolled non-woven fabric: polymerize fibers by hot-melting, then form a spun mesh by hot-rolling or spraying, and then solidify the fibers into a film by heat treatment and cooling. It has the characteristics of high strength and good air permeability, and is widely used in hygiene products, household products, medical products and other fields.
     Melt-blown non-woven fabric: Spray molten polypropylene and other thermoplastic fibers onto the mesh curtain through high-speed melt-spinning technology to form a fine fiber web. With excellent filtration performance and efficient barrier performance, it is widely used in masks, protective clothing, air filters and other fields.    
Spun-bonded non-woven fabric
: The fibers are broken up and bonded to each other by high-pressure water jets to form a soft, breathable non-woven fabric. With good hand feeling and hygroscopicity, it is often used in cosmetics, sanitary napkins, wet wipes and other products.    
Needle-punched non-woven fabric
: The fiber layers are connected to each other through the needling process to form a non-woven fabric with high strength and abrasion resistance. Commonly used in carpets, filter materials, automotive interiors and other fields.
     Fiber-filled non-woven fabric: By filling and reinforcing short fibers, a soft and fluffy non-woven fabric is formed. Commonly used in filling materials, bedding, toys and other fields.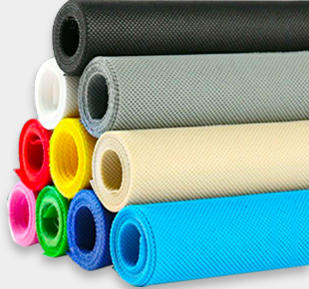 In addition to the above types, there are other non-woven fabrics for special purposes, such as conductive non-woven fabrics, anti-static non-woven fabrics, oil-absorbing non-woven fabrics, etc.